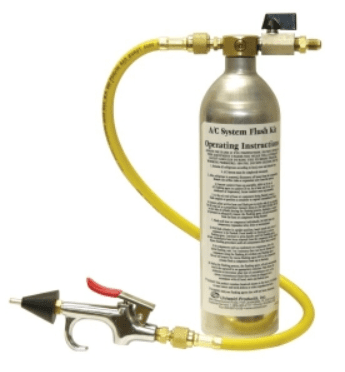 TOOL A/C FLUSH KIT UNIWELD 94184
UNIWELD A/C FLUSH PART# 94184
A/C System Flush Kit with 1/4" Fittings
The A/C Flush Kit is ideal for system flushing after compressor burnouts and will remove contaminates, moisture and acid from the evaporator and condenser. It is also used during retrofits and flushing R22 line sets for R410A conversions. The R22 mineral based oil system is not compatible with the R410A ester oil based system and if cross contaminated will cause the oils to coagulate and could ultimately lead to a system failure.
Includes:
Blowgun with A/C Rubber Tip Nozzle
24" Service Hose
A/C Rubber Tip Nozzle with 1/8" N.P.T. Fitting
Features:
Simply add solvent to the reusable canister and with the use of nitrogen at approximately 70 PSI delivery pressure, reverse flush the evaporator and condenser removing contaminates, moisture and acid.
Special design features include:

Pressure Relief Valve opens at 180 to 190 PSI protecting the cylinder and equipment from overpressure.
Valve Assembly has Liquid Dip Tube.
Ball Valve with 1/4 turn Open/Close.
2 ft. Service Hose
Reusable canister holds up to 18 oz.
Designed to work with any A/C flush solvent that can be mixed with pressurized air.
Blowgun with Rubber Tip Nozzle for Copper Tubing 3/8" to 1-1/8" O.D.