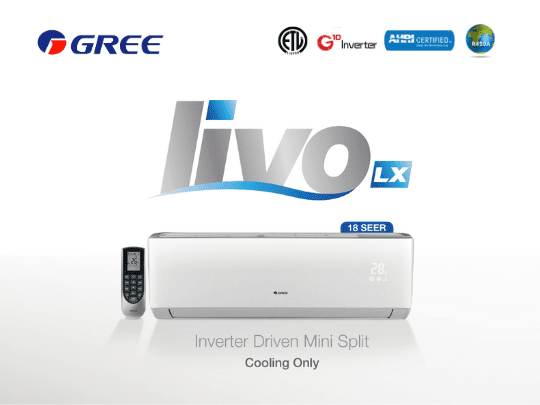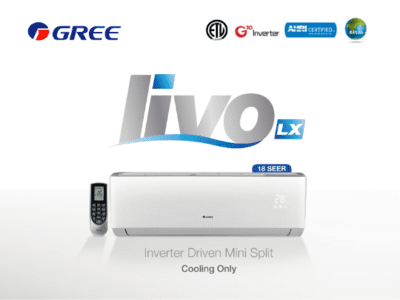 GREE LIVO 12000 BTU/h INVERTER SPLIT SYSTEM
GREE LIVO 12000 BTU/h 220V INVERTER SPLIT SYSTEM
- Cools room up to 150 square feet.
- Energy Efficient 18 Seer Rating
- AHRI Certified
- Free Delivery
- Financing Available
SITE VISIT MANDATORY BEFORE PURCHASE
(Virtual or In Person available)
Product Details
Specifications
The Gree Livo High Efficiency Ductless Mini-Split Air Conditioning system is compact, quiet and comes in a variety of sizes to cool any room. The outdoor compressor section is powered by a twin rotary compressor with GREE's DC Inverter technology. This inverter technology with eco-friendly R-410a refrigerant to saves you energy, reduces outdoor noise and keeps room temperature steady by eliminating the constant starts and stops of conventional air conditioning systems. The indoor section is designed to be a comfortable fit in virtually any living space. This kit comes with many items required for installation. Your particular installation may require additional items.
12,500 BTU cooling for powerful temperature control
Cool up to 150 sq. ft. to keep your living space comfortable
G10 inverter technology allows the system to ramp up or slow down avoiding frequent starts and stops resulting in a more comfortable climate and better air quality
Digital thermostat read-out on both unit and remote to set to desired temperature
Low-decibel operation won't interfere with normal conversation
Waterfall cooling via auto-rotating deflectors
I feel function senses the temperature surrounding the remote control to adjust airflow and indoor temperature
Blue fin condenser coil coating helps prevent corrosion and leads to longer life
Equipment should be sized, selected and installed by one of our qualified professionals to ensure proper installation, function, safe operation.